500 words story writing competition
Activities
500 words story writing competition
For the second year in a row, to celebrate World Book Day, Chris Evans, from BBC Radio 2, has launched 500 Words, a short story writing competion. You never know, your child may just be the next Dickens or Dahl...
500 Words...
If your child is aged 13 or under, get them writing! Nearly 30,000 children entered tte competition last year. There are two age categories: 10-13yrs and 9yrs and under.
The story has to be an original fictional work with no more than 500 words. The competition is looking for insanely creative young authors with mad, magical, mind-blowing or mysterious stories.
The closing date for is 1 March, World Book Day. Click here to find out more!
Writing Tips
Click here for writing tips from the likes of Harry Potter himself, a.k.a Daniel Radcliff, Francesca Simmon, the author of Horrid Henry and more!
Prizes
There are Gold, Silver and Bronze prizes up for grabs in each age group! This year top winner not only win a prize but their school can win as well!

1st place: wins a pile of books as tall as Chris Evans, 1.88 metres! The top writer's school library also receives 500 books.
2nd place:receives a stack of books as tall as Chris' good friend, Alex Jones from The One Show and Strictly Come Dancing!
3rd place: runners-up walk away with their own height in books!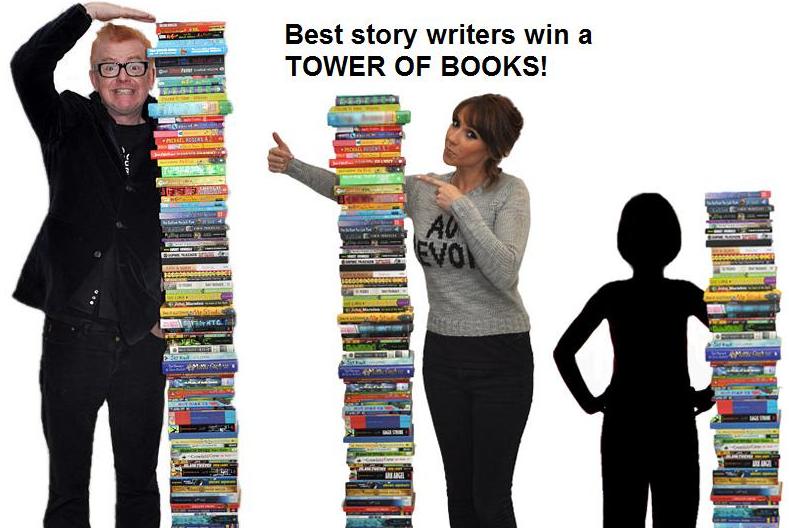 Have Your Say
Be the first person to comment on this article, just post a comment below.