The perfect class for all budding Mini-Engineers
Activities
The perfect class for all budding Mini-Engineers
Mini-Engineers is the brainchild of mother of three Yvette Zee. After fruitless searching for activities locally to satisfy her eldest son's insatiable desire to build with LEGO, she decided to create her own LEGO classes for him and his friends. Mini-Engineers was born. We spoke to Yvette about the Mini-Engineers concept and the company's mission.

Q. WHY MINI-ENGINEERS?
A. While I am not an engineer myself, I grew up with a lot of engineers around me. My father was an electrical/mechanical engineer for a Fortune Global 500 company and through my studies at Cornell University and Massachusetts Institute of Technology, I came across a lot of engineers and have a huge respect for all the wonders that they design and create. As my eldest son loves building with LEGO, I wanted to create a forum where children could come together to build and be inspired with each other's builds, while at the same time, learning and being exposed to engineering concepts in a fun and creative manner. Children love building with LEGO so we like to use that as a hook to expose children at an early age to simple STEM (Science, Technology, Engineering and Maths) concepts. We also like to bring in guest speakers from the industry to make the whole experience a bit more real for them.
Q. WHAT EXACTLY IS MINI-ENGINEERS?
A. We are a children's Innovation and Inspiration Lab (or what we like to call "iLab") in London. Our iLab is currently portable and it's a place where children can come together to learn, be creative, build and inspire each other. Inspiring young minds is at the heart of everything we do. We currently offer weekly LEGO classes, specialised LEGO workshops, holiday LEGO camps and LEGO birthday parties for primary aged children.
Q. HOW OFTEN DO YOU RUN YOUR ACTIVITIES AND WHAT'S INVOLVED?
A. We run our classes and after school clubs on a weekly basis and we tend to have a few weekend workshops during the term. Our holiday camps are run during half term and term breaks. Many of our activities are designed around LEGO Education's 4C principles of Connect, Construct, Contemplate and Continue. Depending on the activity, children will either build on their own, in a pair or as a part of a team. We are very excited to be launching a Minecraft Camp for the Easter and summer break…. we are hoping that children will spend less time in front of the ipad and bring their virtual world into the physical.
Q. WHAT ARE MINI-ENGINEERS KEY BENEFITS?
A. There are many benefits that children can gain from coming to one of our Mini-Engineers activities. Our iLab allows our mini-engineers to design, build and express their creativity through hands on learning. Every activity will enhance their problem solving skills, creativity, teamwork ability, understanding of STEM and Architecture concepts in a fun and challenging environment.
Yvette goes on to say "While Mini-Engineers mission is to inspire a new generation of engineers, any child who likes to have fun is welcome! 'Our aim is to build a solid foundation that every child can use in all facets of life. We like to build mighty minds brick by brick!"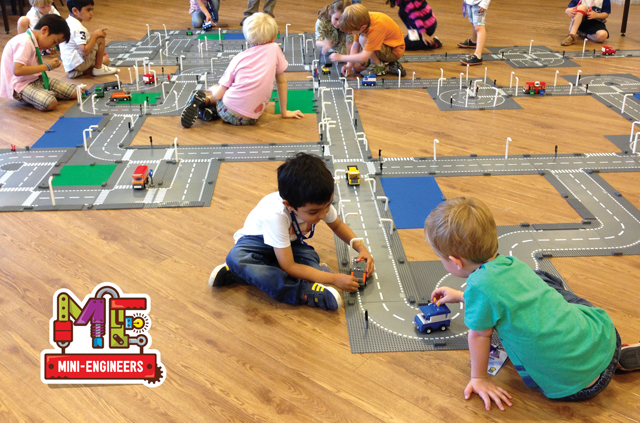 Have Your Say
Be the first person to comment on this article, just post a comment below.