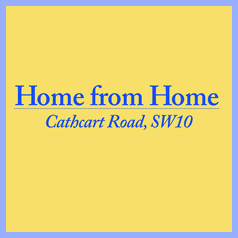 Cathcart Road, Chelsea, London
SW10 9JG
020 7352 2630

Full Day Sessions – 8 O'Clock – 6 O'Clock
Morning and afternoon sessions available.
Children between 6 months - 4 years old.
Home from Home specialises in entertaining and encouraging children to develop and learn 'at their own pace' within a stimulating and caring, home environment. We only accept a maximum of nine children daily because we believe that this benefits the children and encourages the same traditions and values, as they would have at home.
Every child is treated as a unique individual with his or her own personality and sense of humour nurtured. Our stimulating and fun routines create a happy and secure environment which caters for the children's genuine interests, abilities and developmental stage. Children are encouraged to be thoughtful, kind, helpful and respectful to one another as they learn to share, make new friends and understand boundaries. In order to provide your child with close adult attention we ensure that our staffing ratios never exceed 1:3 .
Home from Home is located at Cathcart Road, SW10 with its sister setting in Parsons Green, Fulham. Children have use of a bright and spacious playroom with a wide selection of age and stage appropriate toys and educational equipment. There is also a room where children can relax, read stories, listen to music, role play or do more structured work.
The children play in the garden at regular intervals throughout the day. The garden has been specifically designed and equipped with your child's safety in mind: children have a section to plant their own flowers, fruits and vegetables as they learn about nature and the world around them whilst acquiring healthy eating knowledge. We are within five minutes walk from Redcliffe Square and Ifield Road playground and ten minutes from Westfield Park, so the children are taken on regular 'park trips', either in the mornings or afternoons, to enjoy the outdoors.
The idea of providing quality childcare to young children has come from our own experience of day care. We believe, along with much research, that babies and young children in particular need individual care in a warm and secure environment. 'Home from Home' allows your child to experience normal aspects of life incorporating age appropriate curriculum planning, in a stimulating home environment surrounded by other children.
Reviews
Reviews in chronological order (Total 1 comments)
susiesoo7, Mother of 1, London


31 Jul 2012 11:16am


From the warm morning welcome at 8 am to the goodbye cuddle at 6 pm our daughter's day at Home from Home is filled with fun and stimulation. The structured educational play, music, art, cooking, gardening and activities are delivered in a wonderfully creative way and our 20 month old daughter 's vocabulary has developed enormously around the subjects she is learning. Home from Home, as the name suggests, is very homely and with a small intake the children are able to make good friends and the staff are able to focus closely on each child's needs delivering excellent care in a nurturing environment. The long opening hours and short holidays offer a perfect childcare solution for working parents; you leave from the morning drop off safe in the knowledge that your child is going to thoroughly enjoy their day. The close attention to detail sets this nursery apart; the creative learning programme, the daily diary, the home cooked food and the beautiful environment. This really is a 'boutique' nursery offering a true Home from Home experience for the children.