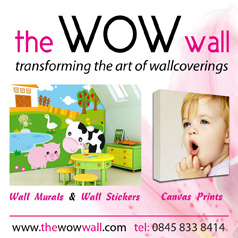 0845 833 8414

Visit Website
Request Information
Transforming the art of Wall Coverings
The WOW wall is an interior design company specialising in stunning interior wall coverings made with the greatest care and attention for children of all ages. We can cater for all types of spaces, from nurseries, children's bedrooms and playrooms, through to teenage bedrooms.
We offer a range of different products, including Wall murals, Wall stickers and Canvas prints. All out products can be personalised to fit your child's room interior.
Our aim is provide you with unique, creative and affordable ways of bringing your child's bedroom or nursery to life, and give your child the perfect gift that will always put a smile on their face.
Fun, Educational and Interactive Wall Arts
We understand that every parent wants the best for their child, and that means a fun, beneficial and happy environment for them to grow up in. Our wall arts are designed to be educational and interactive, combining playtime and fun with learning and imagination. With our innovative range of products you can teach your child to count, to read, to learn many words, phrases and animals and you can stimulate their imagination and interests.
Personalised Wall Arts
Our products come in a wide range of colourful and detailed designs that will delight any child, no matter what their interests. We also offer you the freedom to use your imagination and personalise any aspect of your design. Our winning design team is on hand to work with you every step of the way to ensure your child gets a gift they will love. You can customise any aspect of our bespoke designs, or come up with totally new designs yourself. We let you use your own photographs and even your child's drawings in your design, so the possibilities really are endless. The only limit is your imagination!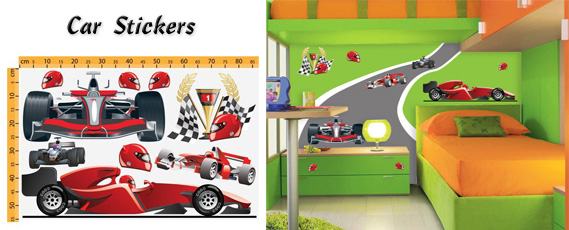 Wall Art Stickers
By using our kids wall stickers you can decorate your child's playroom or nursery and create a fun, beautiful and educational environment. you can even create a simple background to enhance your sticker theme wall with a dash of interior emulsion.
Click here to find out more.

Free Preview Service
Sometimes it can be difficult to envisage how our designs can transform your room. This is why we offer a FREE preview service, allowing you to choose the right image for your room. Simply email us or upload an image of your child's room using our website and our design team will transform your child's room with your chosen design.
Quality and Durability
We know that when you buy something for your child, you want the highest quality that will provide them with years of enjoyment. That's why our motto is Quality Is King. All our wall arts are made with the best materials and printed using the most cutting edge techniques, so you're guaranteed the very best for your child at an affordable price.

Personalised Services
We offer a range of exclusive and personalised services such as "Your Child's Name on Canvas", "Your Child's Drawing on Canvas", "Your Child's Photo on Canvas" and "Your Child's Photo on your Wall". Now you can add that personal touch to your child's nursery they way you always wanted.
Please feel free to visit www.thewowwall.com and view our range of wonderful designs made to bring your child's bedroom or nursery to life. You may also contact us on baby@thewowwall.com and arrange a personalised commission artwork.