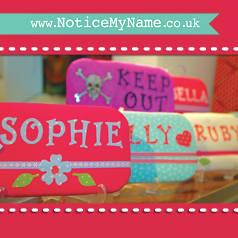 01757 290 031

Visit Website
Request Information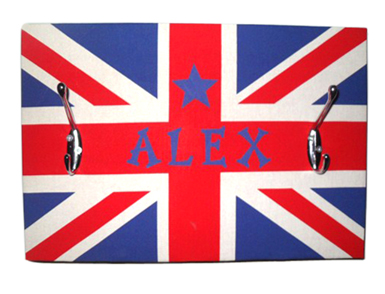 Themed door plaques, fairy hair-slide holders, and union jack coat racks, are just some examples of Designer Jo Conway's previous bespoke orders.
Notice My Name, provide original hand-made designs for busy parents who want a unique and stylish gift for children.

Reviews
Reviews in chronological order (Total 2 comments)
smartacow, Mother of 2, West Yorkshire


1 Jun 2011 10:41pm


I wanted a present for my 2 year old nephew who has lots of toys (and a sister in law with an annoyingly tidy house who likes nice things). Notice My Name made a fantastic door plaque in the shape of a car with his name on it - perfect! They loved it (and my two daughters want their own as well) - oh and actually I'd quite like a notice board once I've finished decorating the kitchen. Notice My Name make unique, affordable and lovely things for presents and for you - worth a look on their website and I will be buying things from them again because the service was friendly, professional and quick.

Zak & Flo, Mother of 2, North Yorkshire


1 Jun 2011 1:38pm


Having heard friends raving about Notice My Name I contacted them with a business requirement. Jo made me a fabulous bespoke sign for my boutique, Zak & Flo. The finished product was better than I could have ever imagined and was turned around quickly to suit my timescales. Now I want lots around my home too!
Quick Links:
My Area:
Baby and Nursery Interiors
,
Baby and Toddler Swimwear
,
Baby Bedding
,
Baby Clothes Accessories
,
Baby Clothing
,
Baby Cream
,
Baby Fashion
,
Baby Feet Casting
,
Baby Food
,
Baby Gifts
,
Baby Hire
,
Baby Photography
,
Baby Products
,
Baby Products Online
,
Baby Products Personal Shopping
,
Baby Shoes: Online
,
Baby Toys
,
Birth Announcements
,
Bookshops
,
Car Safety
,
Carriers and Slings
,
Changing Bags
,
Children Fashion Online
,
Childrens Book Club
,
Childrens Dressing Up
,
Childrens Hairdressers
,
Christening Gifts
,
Christening Gown
,
Cot Mattress
,
Cribs, Cots & First Beds
,
Eco Friendly: Online
,
Family Videos
,
Farm Shop
,
Food Boxes
,
Green Shopping
,
Magazines
,
Mail Order
,
Maternity Bra
,
Maternity Clothes
,
Murals
,
Name Tapes
,
Nappies, Cloth
,
Nappy Laundry Service
,
Natural Baby Products
,
Nearly New Baby
,
New Baby Gifts
,
Nursery Furniture
,
Nursery Interiors
,
Outdoor Clothing
,
Outdoor Toys
,
Personalised Baby Gifts
,
Playhouses and Tents
,
Portraits
,
Pram Repairs
,
Pregnancy Maternity Clothes Online
,
Premature Baby Clothing
,
Rocking Horse
,
Shoe shop
,
Toy Shop