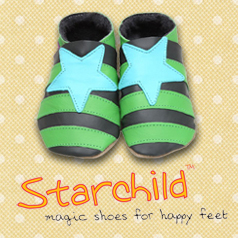 01509 817 601

Visit Website
Request Information
Starchild famous soft sole leather baby shoes and baby booties handmade in England. Starchild baby shoes are recommended by mums and paediatricians. Soft leather allows feet to breath move and grow naturally, suede sole give grip on tiled and wood or laminated floors.
The elasticated ankle means no fastenings to come undone, keeps their socks on and cannot be kicked off. Shop Starchild direct for baby shoes, infant shoes and toddler shoes. These shoes and booties "really do stay on" little feet. FREE delivery for UK customers.
We ship world wide. Celebrity customers include Madonna, Prince, The Beckhams, Gwen Stefani, Amanda Holden, Richard E Grant, and many more.