High fashion hits Blackheath High School for Girls
Education
High fashion hits Blackheath High School for Girls
Perfectly complementing London Fashion Week, this year's Blackheath High School Fashion Show was a most impressive punchy and funky showcase of Sixth Form talent, performed to a lively and full house.
The show, on 11th February, was entirely organised, produced and directed by the students; with girls modelling garments they have conceived, designed and made themselves. The students chose the theme to be 'Nouvelle Vague', to showcase their creative talents. Highlights of the show included items made from shimmering jewel-like plastic, normal, everyday wear customised into beautiful fairytale creations, white haired mythical demigods, gold capes and wild animals.
The girls' individual collections focused on themes including fairytale, ballroom, gems, and mythology, which they transformed into an array of garments and sculpted accessories. As the models took to the catwalk, they were accompanied with theatrical bespoke films and presented with exciting dance routines and theatrical performances, including some excellent singing and dancing performances, which interspersed the collections.
The evening's dazzling entertainment was organised by sixth formers; Kathryn Doran, Phoebe Chard and Maddy Harrington. Ian Whitfield, the Head of Art, was full of praise for the students: "The fantastic show really did encompass both a sense of crest-of-the-wave innovation, as well as humorous nostalgia and playfulness."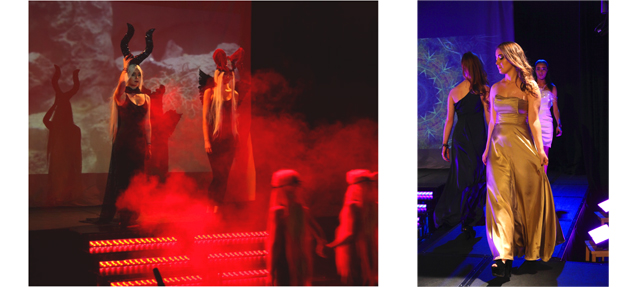 Blackheath High School is an Independent girls' school (aged 3-18) in Blackheath, London SE3 with 780 pupils on roll and member of the Girls' Day School Trust network, and is rated 'excellent' by Independent Schools Inspectorate www.isc.co.uk and Ofsted www.blackheathhighschool.gdst.net
Related Articles
"Lights, Camera, Action!" - Blackheath High School Fashion Show takes its audience through the ages!
Blackheath Students Host 'Architecture Day'
The 11+ and how to survive it...
How Can I Help My Child Learn?
Blackheath High School Welcomed Celebrity Writer and Presenter to Judge their Public Speaking Competition
Local residents are impressed by Blackheath High School's artists
'Renaissance women' flourish at Blackheath High School
Have Your Say
Be the first person to comment on this article, just post a comment below.