'Renaissance women' flourish at Blackheath High School
Education
'Renaissance women' flourish at Blackheath High School
As we delight in Team GB's triumphs at the Rio Olympics 2016, the athletes' success, ambition and determination is echoed at Blackheath High School as girls received their much anticipated results on Thursday 18th August.
Showing themselves to be real 'Renaissance women,' students have demonstrated success across the board, with 65% of results being graded A* to B and, characteristic of Blackheath High School girls, they are leaving to follow a diverse range of Higher Education paths.
The school's 'no ceilings' and 'no gender stereotypes' approach is reflected in the many, various career paths that students aspire to. Girls are excited to have been accepted on degree courses including Geography; Anthropology; History of Art; History and American Studies; Politics and Sociology and Accountancy and Business. Several prized places on foundation art courses have also been won at institutions of the calibre of Central St. Martin's.
The school is very proud of its 'Renaissance women' who have proven that they have a wealth of talent, interest and knowledge in many different fields of study. One such student is Elizabeth Isaac who is delighted to have gained a place at her first choice of university: UCL to read Geography. Elizabeth was a key member of the school's Head Girl Team, enthusiastically involving herself in all aspects of school life; she is also talented actress with successful LAMDA grades who wrote and directed a short play for her Extended Personal Qualification (EPQ) whilst also being a force to be reckoned with on the school's Debating Society.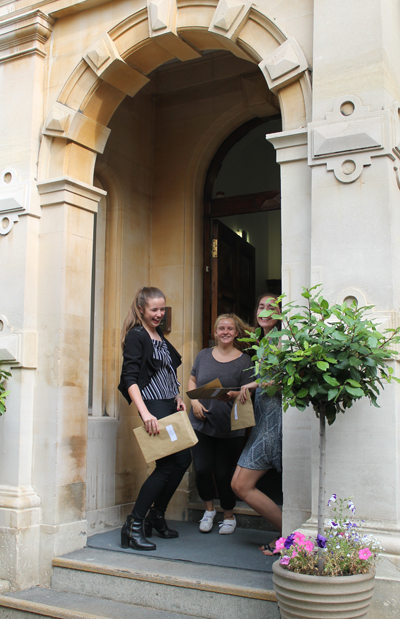 In true 'Renaissance women' style, students who have chosen to follow a career in the world of art have gained equal success in a range of subjects. A talented artist, Chloe Neil achieved A* in Art and gained a further A* in English and an A* in Drama.
Celebrating with her friend and tutors, Perdie Vaughn Williams was visibly ecstatic, as she learned of her A* and A grades, enabling her to pursue her goal to study History and Archaeology. She thanked her tutors for all of their support, saying: "I am completely elated! With the encouragement and support of my tutors, I have been able to make excellent progress in the Sixth Form and have surpassed my own expectations."
Head of Sixth Form, Kate Elliott is extremely proud of the girls' achievements and the ambitious, confident and courageous young women they have become. She said: "Our experienced Sixth Form team provides the guidance and preparation that ensures success in admission to the most competitive courses and, even more importantly, the skills to thrive once the course has begun. I am thrilled that this has proven to be the case again this year with so many wonderful individual stories of girls gaining places at prestigious universities to read a hugely diverse range of subjects."
Head, Carol Chandler-Thompson added: "These success stories are testimony to the girls' hard work, their broad, intellectual interests and outstanding, personalised educational provision here at Blackheath High. and I congratulate all the students and teaching staff on their achievements. It is particularly gratifying to see the girls choosing ambitious, exciting university courses and succeeding in taking up their places. Our focus on cultivating students' full academic potential is based on a commitment to the girls' whole development: spiritual; intellectual; emotional and physical. Great A Level results are the outcome of all these features, not the starting point. More importantly, girls have the skills, flexibility, confidence and attitudes that will enable them to thrive at university and in later life and I wish them all the very best."
Related Articles
"Lights, Camera, Action!" - Blackheath High School Fashion Show takes its audience through the ages!
Blackheath Students Host 'Architecture Day'
The 11+ and how to survive it...
How Can I Help My Child Learn?
Blackheath High School Welcomed Celebrity Writer and Presenter to Judge their Public Speaking Competition
Local residents are impressed by Blackheath High School's artists
High fashion hits Blackheath High School for Girls
Have Your Say
Be the first person to comment on this article, just post a comment below.